Winter camp in HAKUBA 2019
Dec.27th -1st day-
Nagoya to Hakuba
20 kids joined this camp.
We, group of Nagoya left Nagoya at 8 AM.(12kids from Nagoya)
Soon after getting on the train, everyone became friends and had a fun time! We were so excited when we saw the snow view through the window.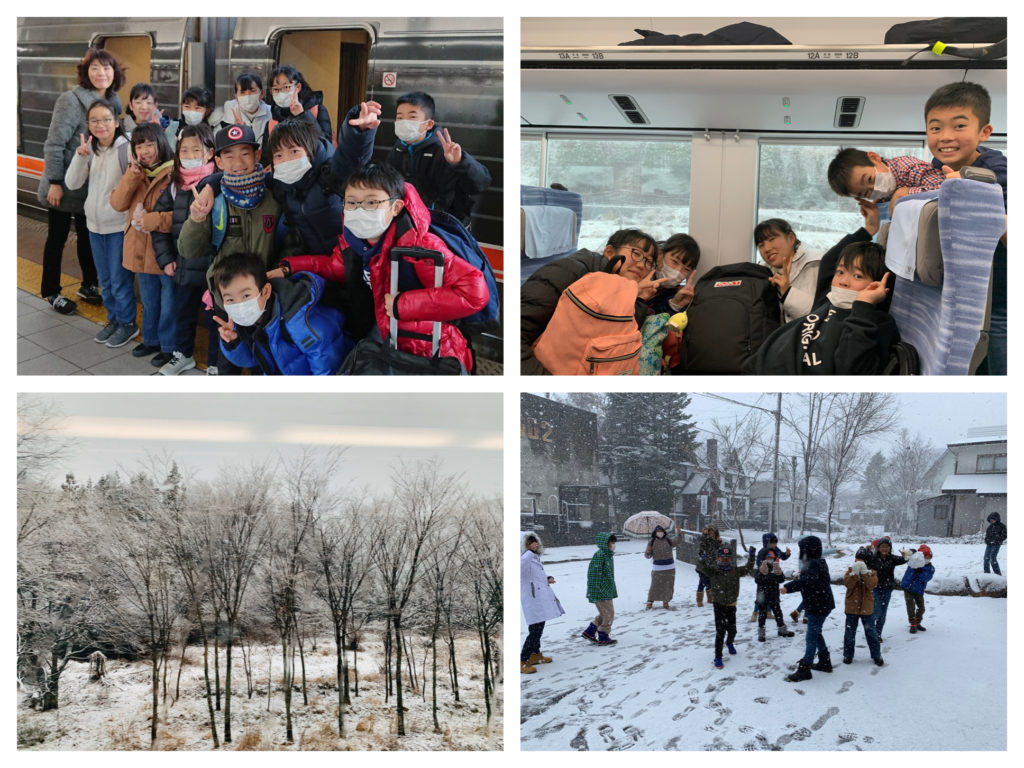 Self-introduction
We joined the group of Nagano at the hotel,NOMAD.
Self -introduction in English was not so difficult but to speak in front of someone who they've just met was bit hard.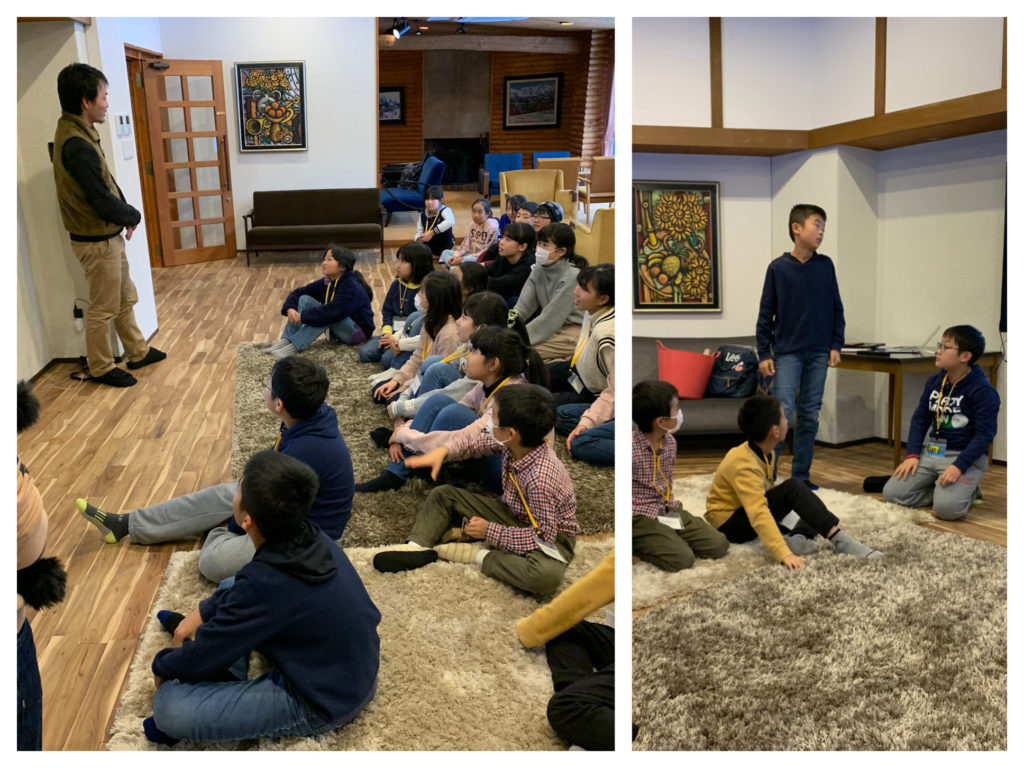 Ice break time
Though kids finished their self introduction, they still looked nerves .
So we did one good activity to get to know each other and be friends.
That was 'people bingo' .
We had to interview everyone many times to get sign.
*Are you 〜?
*Do you〜?
*What time do you〜?
*Can you〜?
At the end of this activity, everyone had got along each other naturally.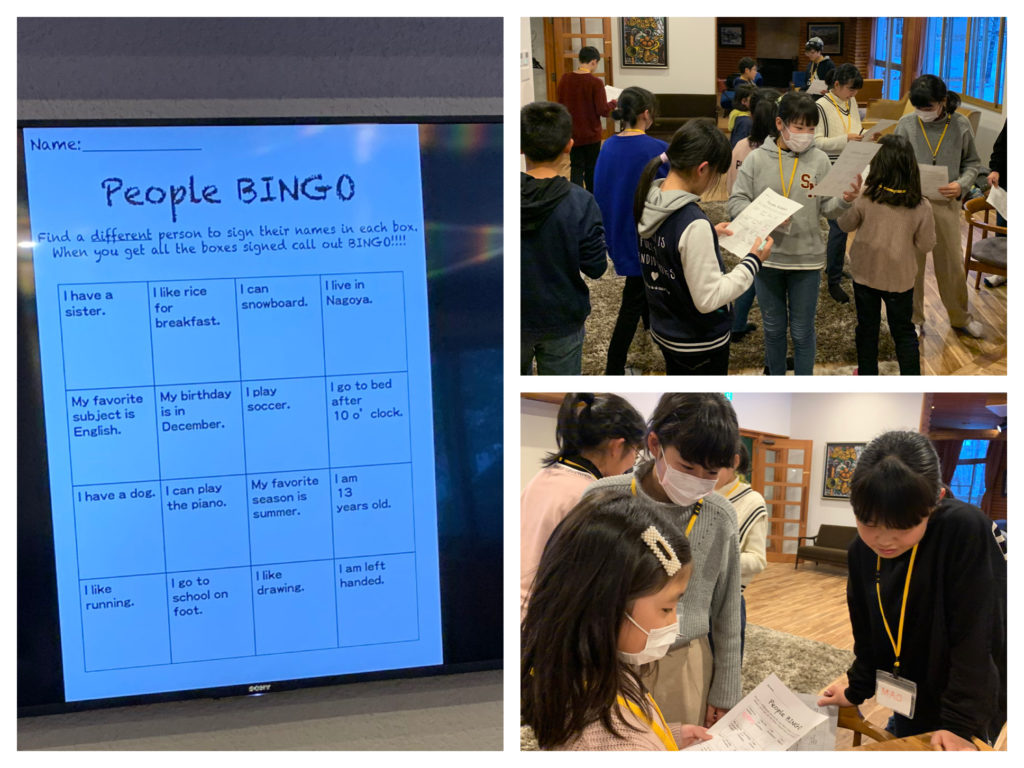 Goal setting
It's really important to set the goal.
*What do you want to try thoroug this camp?
*What do you want to tell?

Before setting their goal, we learned "the survival brain" and "the growth brain ". These were the big key words this time.
Different from Summer Camp, kids joined the ski lesson with foreigners in English without any support.
Some kids made origami work for making communication with foreigners. Good idea!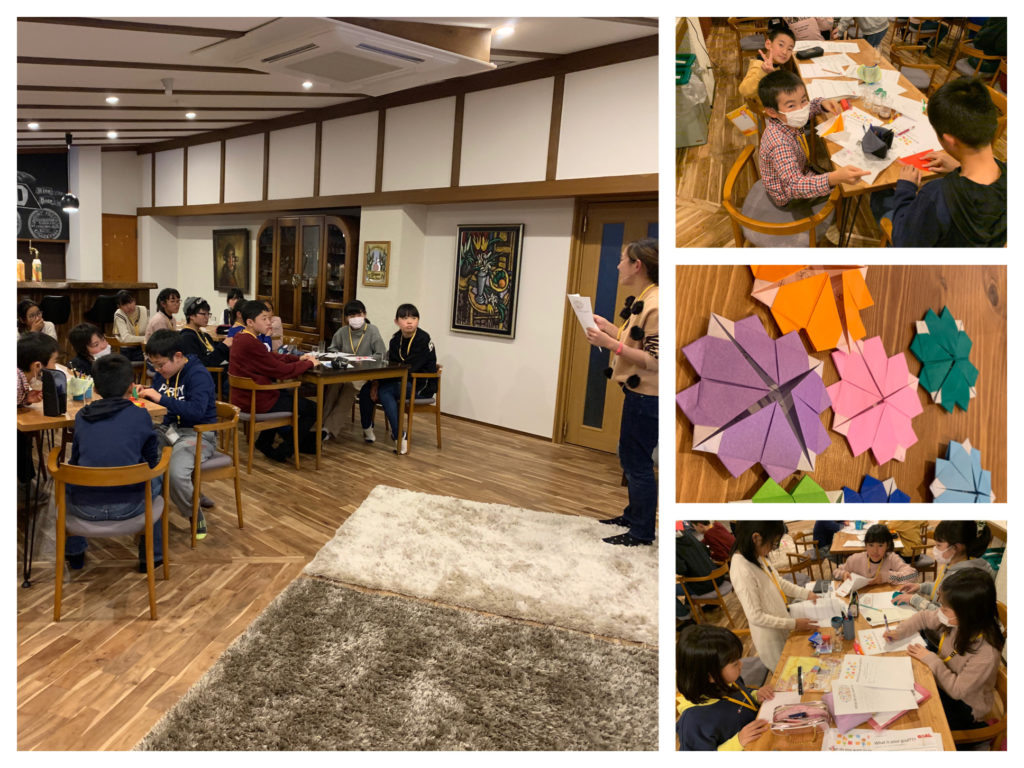 Dinner time

All staff in the restaurant were foreigners and the menu was written in English. Kids had to order in English by themselves.
I saw some kids who couldn't read one of the main dish on the menu. They asked me, but of course I didn't help them. They should ask to the staff by themselves. They hesitated that. (!!this was survaival brain)
Once they gave up asking and decided to choose from what they could read. But later they changed their mind and tried to ask.
They looked really happy when they understood what it was on the menu! And that dish they couldn't read was the one they really wanted to eat! They said" I want to eat it!!" That was nice fun memory for me.
Asking in English was really hard but it was so fantastic experience !!
They communicated through English !
One boy asked me that '"When do we get the desserts?"
So I told him to ask it by himself to the staff.
First, he hesitated to do that but he tried!
Once the staff couldn't catch what he said but he didn't give up and asked again. She understood what he wanted to say and they could communicate. Excellent!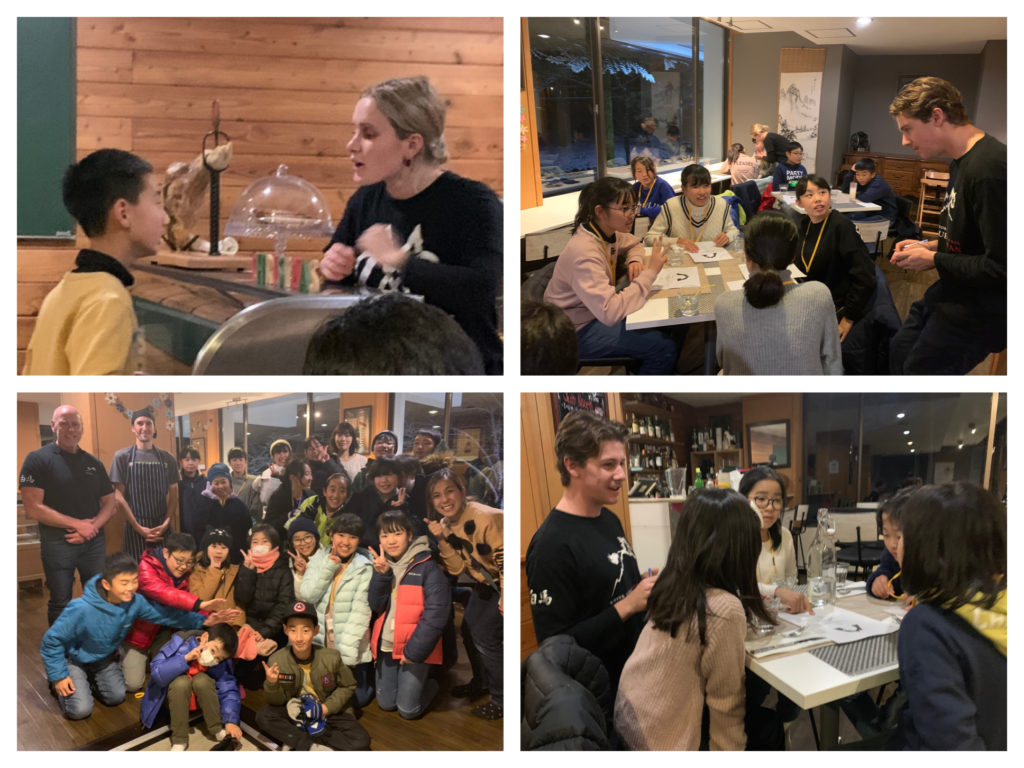 Free time
Kids gathered in the lounge at their free time.
At the hotel, NOMAD, many guests from other countries also stayed.
3 kids from Singapore spoke to our group and we enjoyed playing the game together. Sometimes Japanse kids confused about communication in English but soon they had fun time together! Awesome!
We all enjoyed ourselves regardless of gender , age , where they are from.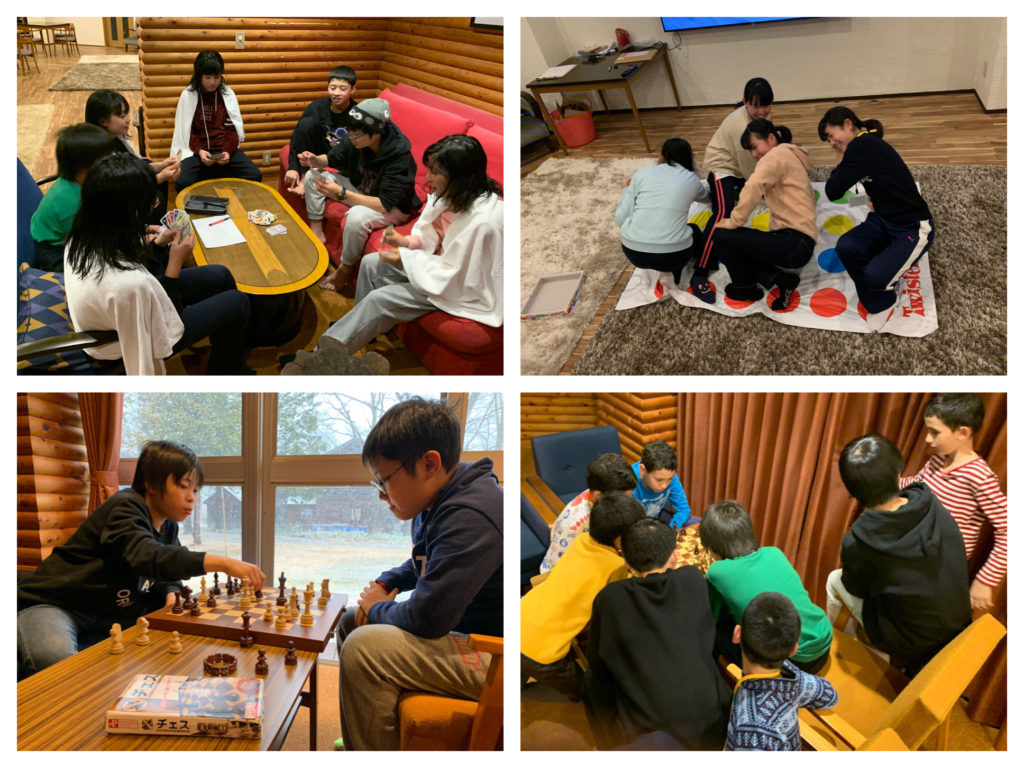 Dec.28th-2nd day-
In the morning
Some kids maybe stayed up late but they were fine next morning.
As I said we were not the only guests on that hotel. Some guests shared the dining space. The boys from Singapore had breakfast on the same table.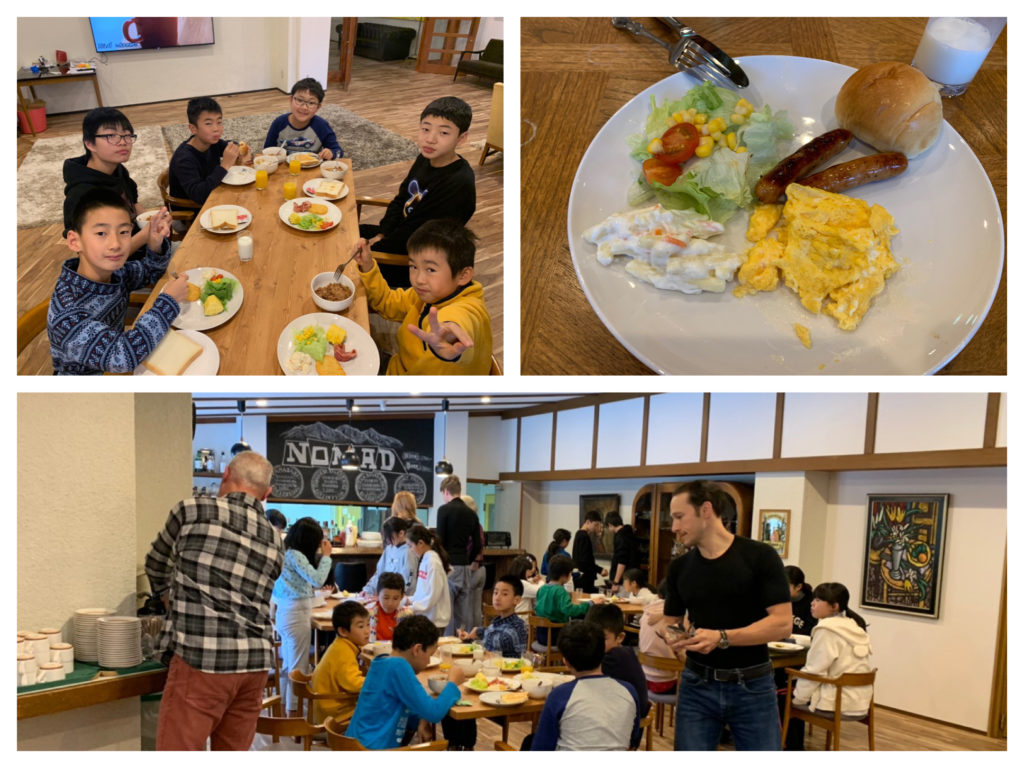 Go to the gerende
Skiing was the first experience for kids from Nagoya ( except 2 kids!)
To wear the snow wear , to put on the snow goods…. everything was hard for those kids.They helped each other to put on them.
Just by walking on the snow made them excited!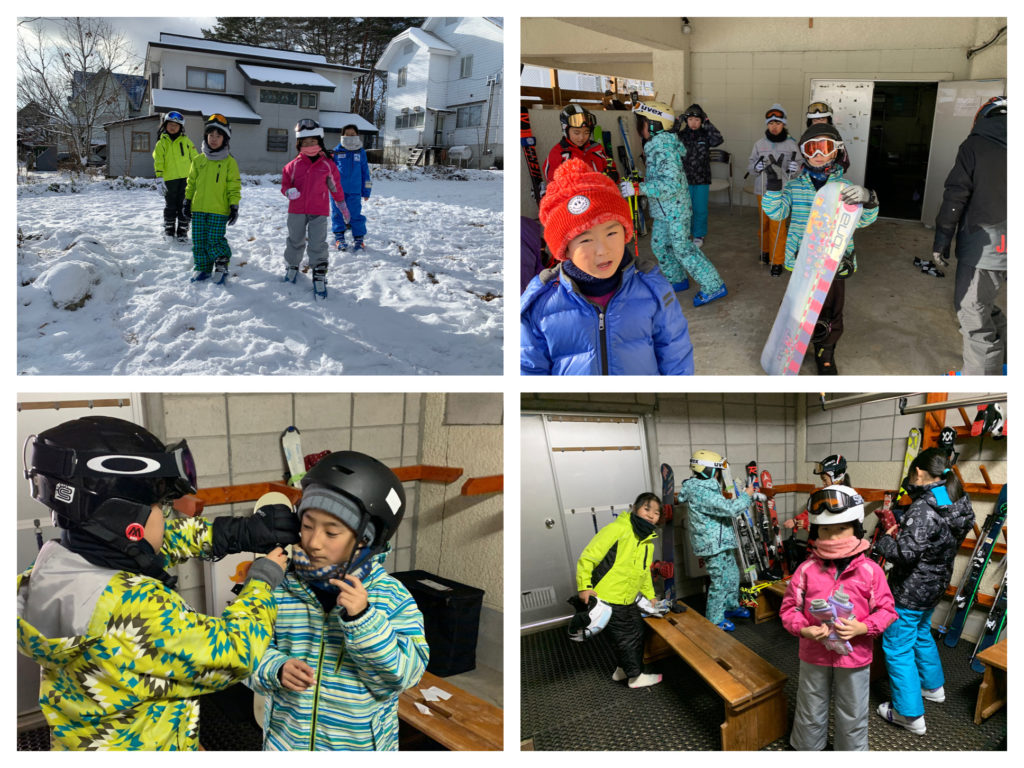 Ski and Snowboard school
The school our kids joined was for foreigners, so of course all staff speaks English. The participants except us were foreigners. Hakuba is in Japan but in the winter season we can't find any Japanese there , Hakuba is like a foreign country! How interesting!
I couldn't care about them during their school time. I had been waiting their coming back.
At the end of the school time, they came back with big smile and said
"I could ski!"
"I tried to speak English!"
"I gave Origami to a girl! Her name is~!"

One boy said " I haven't known when I use the phrase 'May I go to the bathroom?',but today I understood the time I use that phrase! I used it".
I felt that was funny!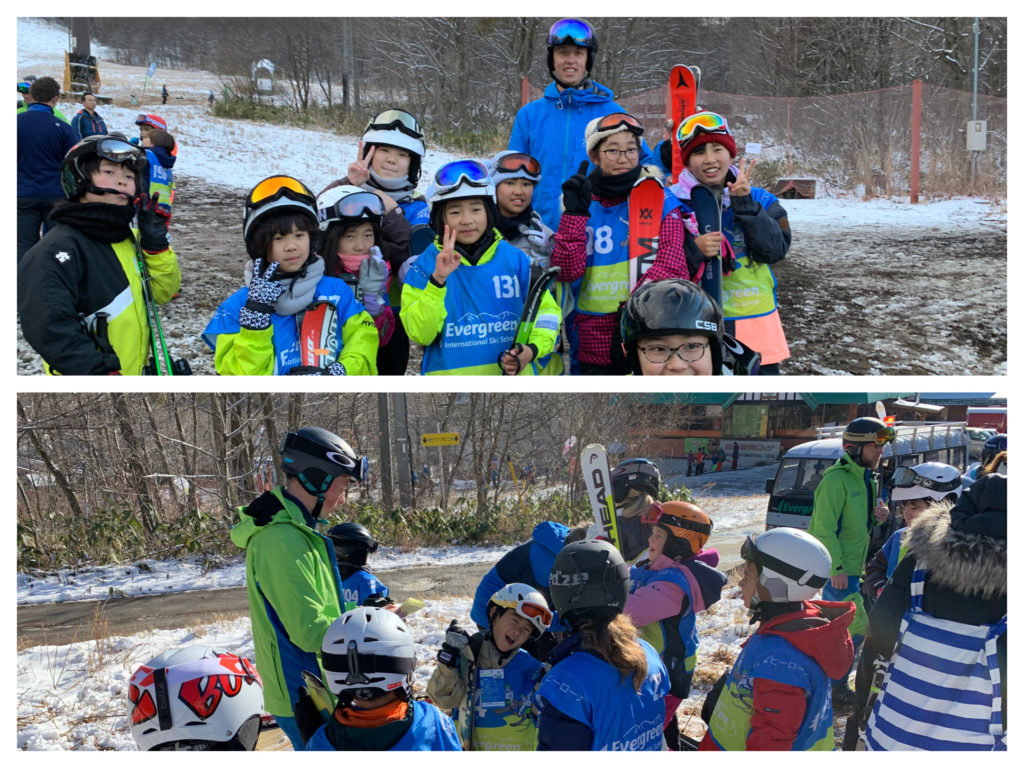 Dinner time
We went to another restaurant from the day before. Compared with that day, they ordered smoothly.
Almost everyone ordered without hesitating.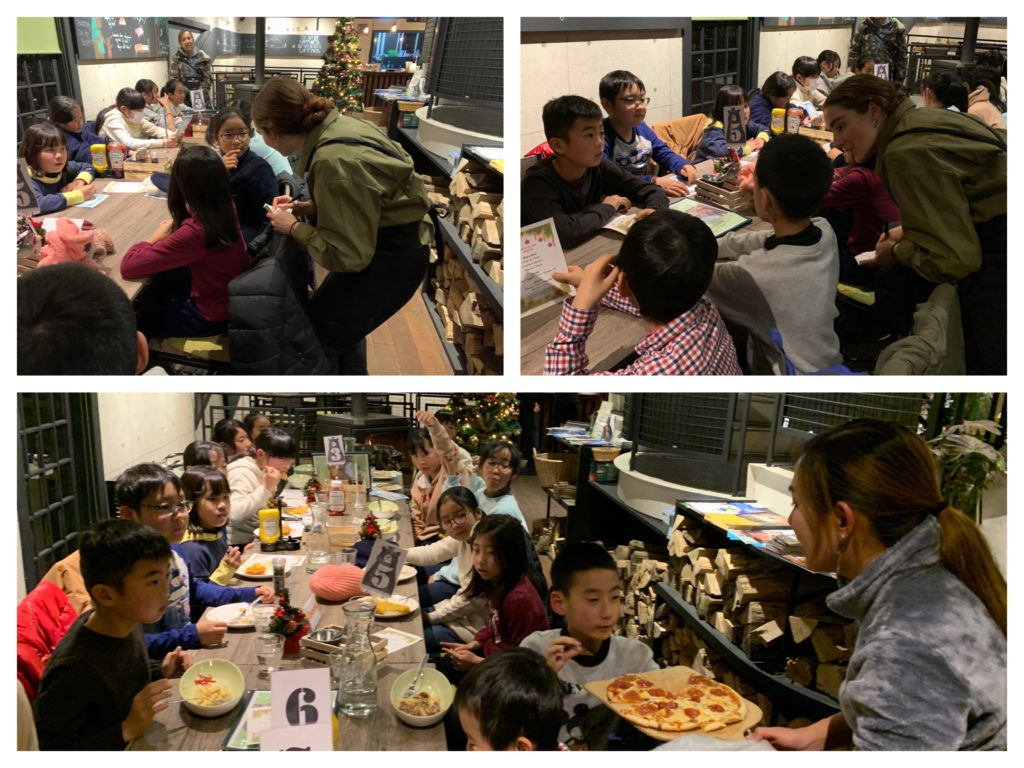 Reflection time
It is really important to have the time of reflection.

*What did you challenge?(growth brain)
*When did you use the survival brain?
*What do you want to do tomorrow?

We shared each experience.
I was very impressed by their reflection.
Don't you think it's hard to speak what they think in front of everyone?
There were many kids who raised their hands naturally . They listened well , gave hands , noded. Sometimes they said'I understand!'
I think one of the big meaning of camp is this sharing time.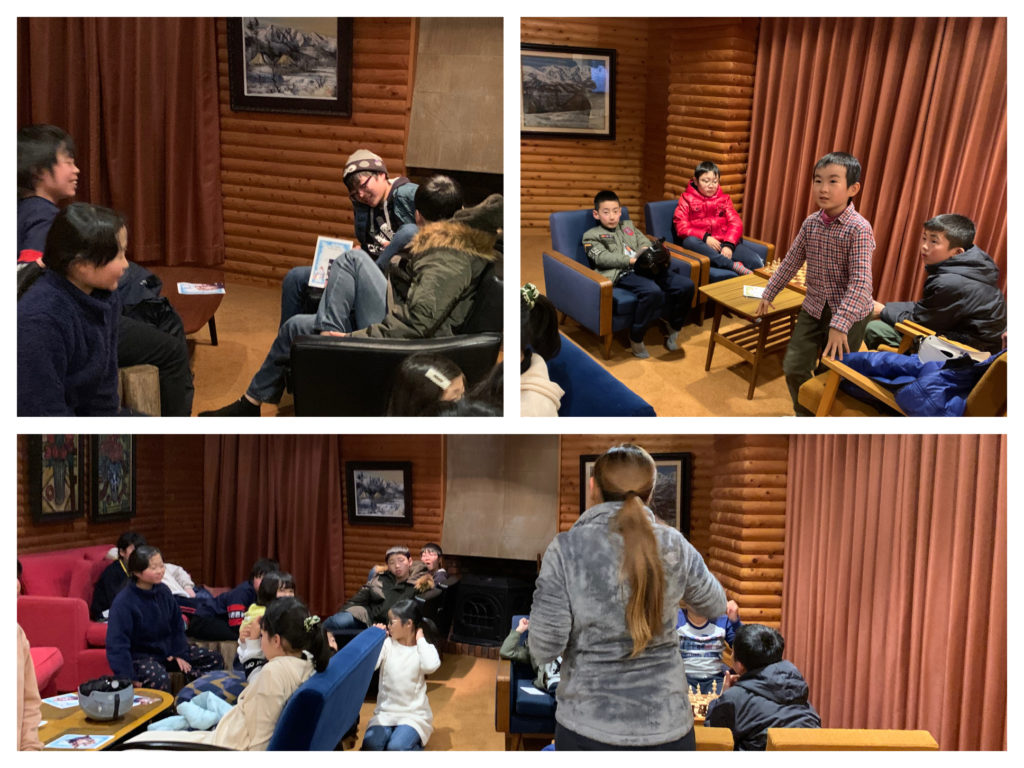 Dec.29th-3rd day-
It was so nice weather on the last day!
They set the new goal for the last day.
Some kids told me that they wanted to speak English that they couldn't tell the day before.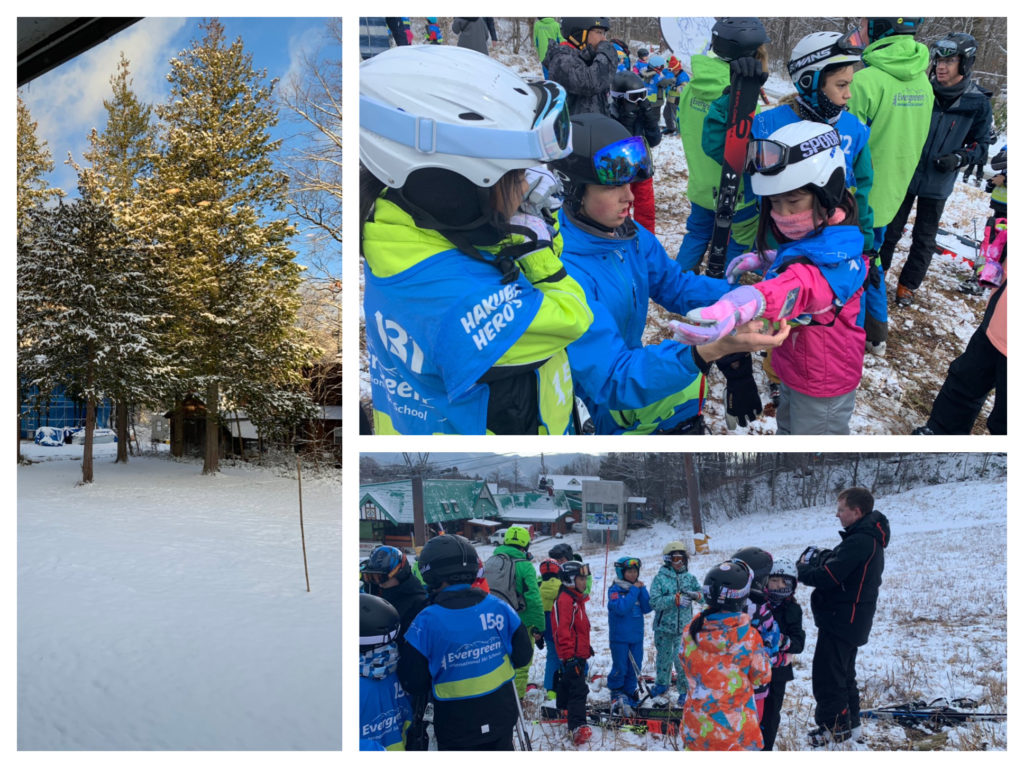 Hakuba to Nagoya
Though the ski school supposed to be finished at 13:30, nobody came back until 14:20. This is unbelievable for Japanese! But that is not so unusual for foreigners!
After skiing school, we supposed to hold the small clothing ceremony of this camp. But we couldn't have that time. Quickly changed clothes, packed bags , said goodbye to friends of Nagano , then jumped into the bus to go to the station!
Even though the hard schedule , on the way back to Nagoya , everyone was fine ! We played the game for more than 2 hours! Kids are really tough!
Kids must have learned a lot from this camp.If you are interested in English camp, let's go together next summer!